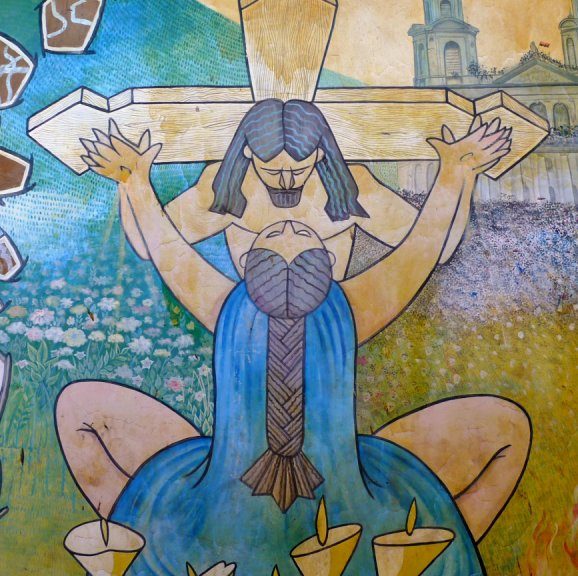 No, Jesus Didn't Die on the Cross to Take Away My Sins
No, Jesus Didn't Die on the Cross to Take Away My Sins
One of the Christian teachings that never set well with me is known as the penal substitutionary atonement theory. This line of thinking is essentially that human sin is so abhorrent to God that he needs a blood sacrifice to bring about justice and allow the sinner to be able to have a relationship with him again. When Jesus died on the cross, the theory insists, he was taking the place of sinners as a sinless substitute. God's wrath was poured out on his dying body, and he experienced the consequences that everyone else deserves and which is required in order for people to be reconciled with God.
It never made sense to me.
I wondered how God could demand that I be more forgiving than He was willing to be? How could God be all-powerful and yet "unable" to be near sin? If Jesus was supposed to be God, and God is supposedly not able to be near sin because of his holiness, how come Jesus hung out with sinners without compromising his holiness? And most importantly: Who says that blood sacrifice is necessary for forgiveness in the first place?
Eventually, I came to believe the penal substitutionary atonement theory is just one more toxic belief created by patriarchal Christianity. It does not reflect the nature or desires of God any more than the sexual slavery and genocides seen throughout the Bible reflect God's purposes. Those things are descriptive of human cultures during those eras, and the Bible records human attempts to understand God with the explanations available to them during their time in history.
As I studied anthropology and theology in my undergrad and grad school classes, I was fascinated to learn that human sacrificial systems are very old. It made me wonder if the idea that God requires a blood sacrifice to forgive sins was less about God and more about the fact that in those cultures all gods required blood sacrifices because that secured their position as the most powerful of all. How could ancient people understand God other than to assume that he required blood to be appeased? They also assumed that the world is flat and the universe centered around the earth. The Bible's record of those beliefs is not an endorsement of their truths.
In seminary, I read a book called Understanding Religious Sacrifice, and it seemed to hold the missing piece of this puzzle for me. The author of one chapter suggested that the inability of men to relate to/understand/control the female ability to bear life through blood is where sacrificial systems come from. He asserts that the very concept of blood sacrifice is a patriarchal invention. Violent sacrificial systems are at essence a male attempt at making an equivalent experience to female life-giving through bloody self-sacrifice.
Patriarchy operates by hierarchical "othering." One is a man because he is NOT a woman, and one is a powerful male because he is NOT a weak male. This othering in the hands of sinful people becomes a hierarchy rather than the complementary nature that God intended. We see children in patriarchy trained in this hierarchy from early on. Boys know that they cannot be women. They cannot grow into "mother" the way that girls can. This is the beginning of the development of gender identity in children as a normal stage of development. However, when you factor in patriarchy, now boys need to define how they are better than girls, not simply different from girls. Patriarchy requires reasons for why males should lead and dominate. Yet, there is this problem. Women are life-bearers in a way that men cannot be. How do men compete with that?! Answer: Violent sacrifice.
Violent sacrificial systems seen in human cultures are the equal and opposite side of the sacrifice coin to female life-bearing. There really is no better word for pregnancy, birth, and early motherhood than "sacrifice." Women do not personally benefit from the experience, and we bear physical and psychological scars forever. Babies are literal parasites of blood, body, and mental energy culminating in the most painful physical experience that a human can endure. On the other side of birth, good attachment between mothers and their children produces a measured psychic bond. It is why moms know when a sleeping baby has a fever and get up to check on them. Good mothering and sacrifice are synonymous, but it is radically different from the sacrifice system requiring the blood of the innocent. Motherhood is the spilled blood of the willing in order to bring new life.
The hierarchical system of patriarchy produces marginality. Anthropologists and psychologists have found that women and men have different responses to marginality. The female response to marginality is "I am not helpless because I am connected" while the male response is "I am not helpless because I am the most powerful."* Interestingly, there is newer data in trauma research that shows this same tendency. Now that more research is being done on women, we've found that flight, fight, and freeze are not the only trauma responses. The fourth is "befriend" and is almost exclusively female. Women befriend in order to stay safe in trauma. This might mean befriending an abuser or others who may help her survive a situation. In the marginality of trauma, women often react by seeking connections, and it is measurable with the release of the hormone Oxytocin (called the "bonding hormone"). Interestingly, the release of Oxytocin in women is also found during labor, birth, and while nursing a baby.
I believe that women are biologically hardwired to embrace marginality. It is required in order to produce life. This is exactly the experience of pregnancy, birth, and early motherhood. It is the blurring of those lines between self and other. There are some fundamentally different things that women offer the world through our experiences with marginality. We know through recent studies that women leaders often lead with more empathy and a more frequent ability to collaborate without dominating. But what will we find if we start exploring what women intuit about the nature of God?
Theologically, it makes me wonder why we aren't using concepts like motherhood to understand the cross of Jesus. Is a better understanding of sacrifice that of embracing marginality to bring forth life?  The image of God as pregnant and giving birth to us as new, spiritually alive beings through the life and death of Jesus is so much more of an image of sacrifice than an innocent Christ being murdered by his angry Father to appease a bloodlust of some kind. This violent view, in my opinion, was invented by men and is reflective of the sacrificial systems in human religions across time and cultures. This is different from what Jesus referred to as our "second birth." In fact, doesn't the very language used by Christ to describe his purpose demand we look at the cross through the lens of motherhood? If we are born spiritually, Christ is doing the birthing. What he is describing is the spilled blood of the willing to bring life rather than the male imitation which is the murder of the innocent to satisfy the offended. Violent sacrifice is a cheap imitation of the life-giving sacrifice of mothering.
We haven't been able to bring God as Mother into this conversation about the nature of Christ's sacrifice because men have monopolized the theological conversation for the past 2000 years. Maybe that is why we have been fixated on things like the penal substitutionary atonement theory for so long. Male-offered theology is almost exclusively about explaining God, explaining God's sacrifice, and defining what that means for the way we live. My experience with women is that we do not require those explanations as much as we want to participate with it in empathetic connection… which goes hand in hand with our experiences with marginality under patriarchy and as life-bearers.
It is possible that some of the God-playing being done in patriarchy, specifically in the Christian church, is at its very core due to the lack of a robust exploration of what it means that God is as much female as God is male. Both men AND women are image bearers, yet we have never adequately explored the depths of what it means that God is also our Mother. Perhaps reforming our understanding of the cross is the most important thing that female image bearers have to offer us. Jesus did not die to rescue us from the wrath of God against our sins; he became the human embodiment of the divine, suffered and sacrificed in life and death because there was simply no other way that we could understand what God is like. This understanding of what God is like as revealed in Jesus is spiritual birth. Jesus' life and death was the sacrifice to make this birth possible for we were conceived, birthed, and continue to be nourished by Love.

* Quotes from the linked chapter in Understanding Religious Sacrifice.