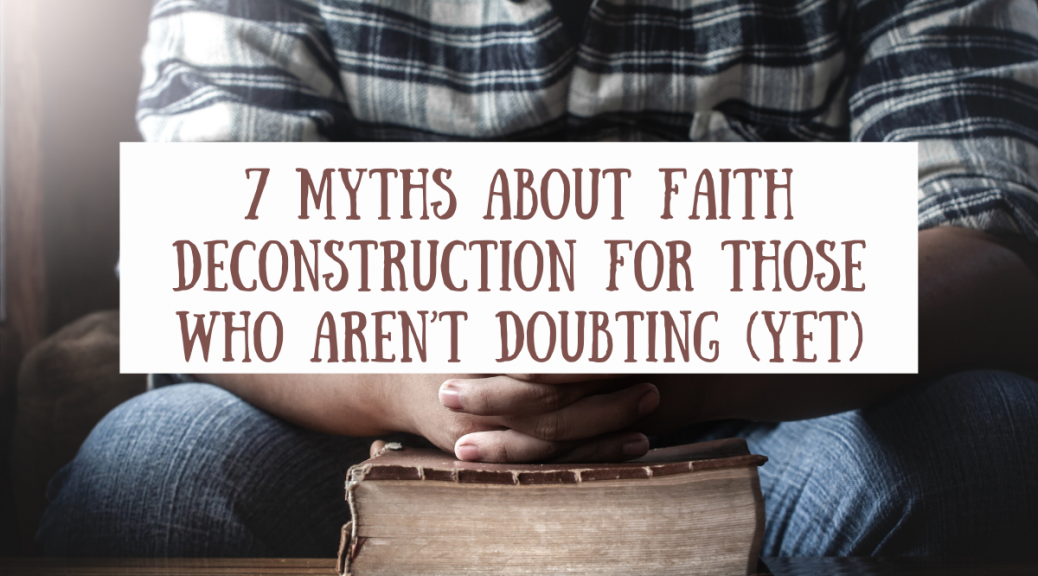 7 Myths About Faith Deconstruction For Those Who Aren't Doubting (Yet)
7 Myths About Faith Deconstruction For Those Who Aren't Doubting (Yet)
It's alarming how often I have read or heard ridiculous misunderstandings about the process of faith deconstruction from those who have never gone through it. Some of it is fear mongering, and some is honest misconceptions by caring people struggling to understand. The following are the top 7 frequently repeated myths I've heard about people in the process of faith deconstruction.
1.  This is just a fall into relativism and a refusal to believe absolute truths. We grew up being warned about the dangers of postmodern relativism. We were reminded that there is absolute truth, and truth mattered. We agree. That's exactly why we cannot believe that this one subculture in one place and time in history has it figured out, and everyone else is wrong. Truth is real, but our interpretations of it are human and fallible. We respect absolute truth more than most because we admit that we can't possibly know it fully and we are willing to spend our lives in pursuit of truth.
2.  Faith Deconstruction is the first step toward atheism. Well, okay, yes it actually is. But it isn't inevitable. Many people begin doubting the validity of certain truth claims from their tradition and go through deconstruction only to come out on the other side of it with a different sort of faith. Some become more progressive in their theologies but remain Protestants. Some move to "sister" faiths like Catholicism or Eastern Orthodoxy, while others move to a completely different religion all together. And then there are those who move to agnosticism or atheism. The process of faith deconstruction is not prescriptive. It would be wonderful if it was because at least we would know where we are going. Most of us have no idea where this thing is headed. We only know that we must continue wrestling and seeking truth, goodness, justice, and love.
3.  The people leaving the church are leaving their faiths. Some of us will leave our faiths, but many more of us will not. We don't stop having beliefs because we stop attending church. We simply stop attending church. There are different reasons: we are disillusioned by the abuses of power, we are sick of the hypocrisy, racism, misogyny, and downright meanness in the church, we are weary of the church using God as a political weapon. For many deconstructing people, we actually love Jesus and can no longer find him in the church so we have no motivation to be there anymore.
4.  You cannot love God if the Bible isn't the center of your faith. Deconstructing the Bible is difficult because at the core of American evangelical faith is the Scriptures. In that tradition, God and the Bible cannot be separated. However, when we doubters began to realize how the majority of Christians throughout the last 2000 years until present day had no access to the Bible due to poverty, illiteracy, or persecution, we had to ask if their faiths were real or less than our own. If they were not, and their relationship with God didn't require deep knowledge or access to the Bible, the door then opened to explore the possibility that maybe, just maybe, we have been emphasizing the wrong thing all along, and the Bible doesn't belong at the center of our faith. Jesus does.
5.  Doubts are the result of being influenced by secular humanism. Perhaps for some this is true, but generally those with faith questions have them because… the Bible itself has demanded them. We were given a conservative hermeneutic that told us that the Bible is truthful in all its claims, but when we read the internal contradictions and the blatant scientific, historical, and archeological mistakes, we had to ask how that was even possible. We were looking for a reasonable explanation from the Bible about the Bible. The inconsistencies within Scripture itself demand an explanation that conservative literalism cannot answer without intellectual dishonesty and a heaping dose of cognitive dissonance. Those that deconstruct simply couldn't live in that dissonance any longer.
6.  Only those with weak faiths will doubt. If you spend enough time in the "deconstruction" world, you'll find that the overwhelming majority of doubters are the ones who took their faiths the most seriously. They were the ones who were in church for every service, went on the missions trips, stood alone at See You At the Pole, and pledged to follow all the Christian rules including sexual chastity until marriage. They were the ones who became the pastors, Sunday school teachers, and missionaries. They chose to attend Bible schools and seminaries. Faith doubters are the ones who are serious enough about their faiths to bother asking questions that can lead to doubt in the first place.
7.  This is just taking the easy road. Deconstructing faith is one of the bravest things that someone can do. It takes unbelievable amounts of courage to be willing to hold deeply held beliefs and values to scrutiny and to be open to being wrong. Vocalizing our doubts has been costly. We've lost family members and important relationships. We've been kicked out of ministries, jobs, and churches. We've been ostracized and slandered and lost the respect of communities that once valued our voices. We've been afraid for our own souls and those of our children. None of this is easy, and not a single one of us began doubting and deconstructing because it was something we wanted to do.
Feeling misunderstood and mischaracterized is part of the pain of deconstructing faith. We feel like pariahs in the community as if we have a disease people are afraid they will catch if they come too close or ask too many questions. We wish people would just ask us rather than assuming or believing their pastor/teacher's warnings about deconstruction or reading a book by a non-deconstructed Christian about us. We are willing to tell you how we got here and what the journey has been like if you are brave enough to ask us and listen to our answers. And you'll have to be brave because it is entirely possible that when you hear what we have to say, you might find yourself beginning the faith deconstruction process too. If you do, know that it will be okay. Many won't understand, but those of us who have been there do, and we will be here waiting for you down at the bottom of the slippery slope.